Counter-Strike is once again proving itself to be one of the most entertaining esports games, and its community continues to grow strong. This past PGL Major Stockholm 2021 broke the previous record for viewership twice. Local broadcasts were also very popular, including the Polish one.
PGL Major Stockholm 2021 was a magical tournament that lived up to the "Counter-Strike fest" expectations. In just a few days, Valve fans witnessed the highest level of esports in Major history, phenomenal fates for both entire teams and individual players, and a spectacular finale that was the icing on the cake of the entire tournament. 
All these aspects made PGL Major Stockholm 2021 the most watched CS:GO tournament in history. The decisive clash between Natus Vincere and G2 Esports was watched by 2,748,850 viewers worldwide at its peak, beating the previous best set during ELEAGUE Major 2017 (1,331,781 viewers) twice. The tournament took the CS:GO category to #5 on Twitch and ranks #7 in the Top 10 most popular esports events ever, according to escharts.com.
Fantasyexpo gaming agency has acquired broadcasting rights in eight European countries – Poland, Lithuania, Latvia, Czech Republic, Slovakia, Estonia, Bulgaria and Romania. Such a wide range of activities means that Fantasyexpo broadcasts in the largest number of markets in the world.
From the group of countries mentioned above, the most active turned out to be the Polish community, for which the broadcasts were prepared both on Twitch and on Polsat Games TV. During the stream on Piotr "izak" Skowyrski's channel, created in collaboration with FRENZY, 67,206 people appeared at the peak moment. In total, Polish broadcasts on Twitch received nearly 700,000 unique viewers and generated 4,273,013 impressions, and were watched for a total of 1,328,408 hours. This is the best result since 2017. Additionally, a second broadcast in Polish language was run on the ESPORT NOW channel, where, as part of the #GamingWithoutBarriers campaign, broadcasts of the semi-final matches and the final were prepared with translation into Polish sign language, so that deaf people could fully experience esports emotions. The Polsat Games broadcast from PGL Major Stockholm 2021 was also very popular and received over 970 thousand views. At its peak, the tournament was watched on TV by 57,923 viewers at the same time.
Viewers of regional programs played a significant role in this record number of viewers – the best audience among regional programs was recorded in Romania, the Czech Republic and Slovakia, where they were watched at their peak by 7,7 thousand and 4,6 thousand viewers.
In total, PGL Major Stockholm 2021 broadcasts, to which Fantasyexpo bought the rights, generated more than 6,3 million impressions, attracted more than 1,2 million unique viewers and the total viewing time amounted to more than 2 million hours. The broadcasts were supported by multi-channel communication in the area of social media, digital media and performance marketing activities. Publications in social media have recorded a total of 18 000 000 impressions, while over 300 articles mentioning Fantasyexpo have appeared in the media.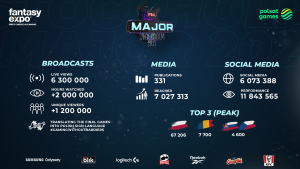 A Major tournament is always a special moment. Every Major broadcast in Poland has always had something special, something extraordinary, something unique. And yet it also had something in common: people who gave their all. And now we are talking about such a situation in 8 markets – amazing. New super stories were created at the tournament, as well as behind-the-scenes stories that will long be remembered by those involved – and everyone can be equally proud of themselves, because a titanic amount of work was done. In the esports industry, Major is also a time when everyone unites strongly for this one moment and surrender to esports emotions, and these were very positive also thanks to the participation of the audience in Avicii Arena. All of this can be summed up by two words that many people from the esports world wrote on a popular social networking site just before the finals: Counter-Strike. – comments

Bartosz Wilczek, Head of esports, Fantasyexpo.
 In the world of esports Major is synonymous with a festival of fans, and the tournament organized in Stockholm undoubtedly lived up to expectations. Fascinating stories, great emotions, unique actions and exciting matches will remain in our memories for a long time. The audience in Poland made it clear that they are hungry for CS at the highest level. I'm glad that they were able to follow the tournament not only on Izak's channel but also on Polsat Games TV – says

Marcin Kilar, Managing Director of FRENZY

– As FRENZY, we were at the center of the event's production and together with Fantasyexpo we made sure that the Polish broadcast was on the highest level. PGL Major Stockholm 2021 is yet another event which proves that by joining forces you can go very far. I'm sure this won't be the last time we work together and I'm enthusiastic about the future.
Big tournaments have been very popular among e-sports fans for years, as well as brands that want to be visible during such important events. This year, during Polish broadcast they were accompanied by such brands as Samsung Odyssey, KFC, Logitech G, Pringles, Reebok, Grzeski or BLIK. Apart from the visibility during the broadcast, Fantasyexpo has prepared many additional activations for them, as well as extensive communication in social media, digital media and through influencers. Internet broadcasts are characterized by interactive tools thanks to which viewers can participate in discussions and integrate with other users. One such tool is chat, which allows you to promote partners in real time by sending links to offers. It also allows viewers to track responses to displayed ads. In addition, viewers bond with the presenters, often interacting and dialoguing with them.
Expert commentary: Jan Zarzycki, Key Account Manager, Fantasyexpo 
Enormous interest in the PGL Major 2021 tournament not only in Poland but all over the world and the numbers mentioned above clearly prove that e-sport is growing in strength and provides powerful tools for marketers. Proper implementation of activities and matching them to the target group can bring huge benefits to the brand and achieve its sales and image goals.  We are also glad that more and more brands, including non-endemic ones, see this potential. During this year's broadcast we had brands such as Grzeski, BLIK or Reebok, which until now were not present at this type of events. In turn, the KFC brand once again bet on esports, even going a step further and expanding its operations to the Czech and Hungarian markets. Of course, there were also endemic brands in our broadcast, such as Samsung Odyssey or Logitech G, which has been associated with e-sports for years through a number of differentiated activations.