The pandemic and the resulting restrictions meant that we spent most of our free time at home. All the activities that required leaving our own four corners were put aside and we started looking for entertainment in the virtual world. This situation turned out to be a great opportunity for online developers, especially gaming influencers, who began to appear in increasing numbers. YouGov took a look at their growing power and presented the collected data in the 2021 report "The power of gaming influencers".
A survey of adults of all ages in 17 countries found that influencers are already followed by one in two people. The highest percentage of followers aged 18 and above is found in the United Arab Emirates, Indonesia and India. Poland is in 10th place with the result of 37%, which still guarantees us a place among the top European countries – only behind Spain. 
In order to obtain accurate data on each influencer group, YouGov divided online creators into 14 categories. Among them, gaming influencers were singled out, with 9% of the global adult population following them, or just under one in 10, a result that guaranteed them 11th position. They are followed by culinary influencers (16%), health influencers (12%) and celebrities (12%). 
Fanbase of gaming influencers
Live gaming or esports broadcasts are the content most preferred by men, especially those aged 18-34. In this group gaming influencers are definitely No. 1 – they are watched by almost ¼ of the mentioned population (23%). 
The situation in Poland is similar to the global result. Poles belonging to the mentioned group are also the most likely to follow game creators (22%), which is a significant increase in interest compared to the general population in our country (in this case, gaming influencers were watched by 6%). Although the result seems rather low, it gives us the lead among countries located in Europe (first place together with Spain).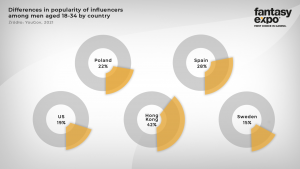 What about female viewers?
Analyzing the charts provided by YouGov, you can see that gaming influencers have the highest percentage of male viewers of all ages at 69% (ahead of sports influencers at 66% and music influencers at 52%). This is a very good result considering that, in general, women are more likely to watch influencers (53%). However, while they prefer content related to beauty (77%) or fashion (67%), gaming influencers can also count on their interest (women following gaming influencers – 31%).
Do Polish women follow gaming content? Yes, but in this respect we are in one of the last places. Gaming influencers are not very popular among women in our country – only 24% of Polish women follow them.
Gamers are more likely to follow gamers
As we all know, the gaming industry is huge, and in addition to just receiving gaming-related news, we often take on the role of a gamer ourselves. According to the YouGov report, 68% of adults of all ages across the 17 countries surveyed play games at least once a week.
So it's worth looking at the correlation noted between the number of hours spent gaming and following gaming influencers. Globally, those identified by YouGov as "heavy gamers" were more likely to follow gaming influencers (20%) than those who play more than an hour a week (15%).
In Poland, 19% of those classified as "heavy gamers" follow gaming influencers, while only 11% follow gamers who spend much less time gaming.
Phone, computer or console? The most popular devices
Knowing that the followers of gaming influencers are people who are also active in the gaming world, YouGov looked at what devices they use most often. According to the data, mobile devices (phones and tablets) are the most popular, chosen by 76% of followers. In second place are laptops and desktops with 56%. Gaming consoles have the fewest followers – 45% of observers pointed to their use.
The top3 distribution looks quite different, however, when we look at the answers given by respondents from individual countries. In Poland laptops and computers are definitely No. 1 (72%) – which is much higher than the global result and the highest among all surveyed countries. Polish gaming influencer observers also report using mobile devices and game consoles.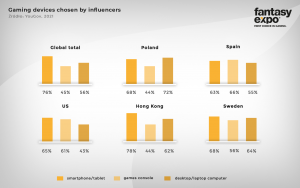 Who are the Polish followers?
Based on the presented data, we can clearly define the profile of the followers of gaming influencers. They are mainly males between the ages of 18 and 34 (the presence of females, however, should not be underestimated). Gamers – mostly "moderate gamers" – who spend between 3 and 10 hours a week in the gaming world. Favorite device? Definitely a laptop or computer, although they won't disdain playing games on their phones either.  
What does the "The power of gaming influencers" report tell us? First of all, as the name suggests, it shows the power of gaming influencers. This is a very important aspect in the context of communication. When planning activities in gaming we should not overlook influencers who have a constantly growing community. By involving them in the activities, they will become a bridge to reach their loyal fans and, as a result, increase the brand's audience.