After two successful rounds of the BLAST Rising tournament in Europe, gaming agency Fantasyexpo along with BLAST have decided to set up a similar competition for teams in Latin America. Contest organised at the turn of November and December has gained the teams and fans esteem.
The BLAST Rising LATAM tournament is a brave expansion of BLAST and Fantasyexpo towards the South American continent. Although the great popularity of esports in the region is widely known, running a tournament on the other side of the globe is a great challenge on the logistic and organisational part. However, BLAST in cooperation with Fantasyexpo achieved a successful run with a smoothly carried out tournament, gaining recognition in one of the fastest growing markets.
There were 16 teams in the tournament, which fought for the $15,000 prize pool. Argentinian organisation 9z came out victorious, losing only a single map throughout the entire competition. BLAST Rising LATAM was well received by the South American community. The tournament, its communication and official broadcasts were prepared by Fantasyexpo gaming agency. There were broadcasts both in English on BLAST's Twitch and YouTube channel and in Portuguese organised with help from FiReSPORTS. At least 144 000 unique viewers turned up, generating more than 550 000 live views and 122 000 watched hours.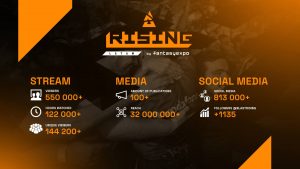 "The last few weeks have been very crazy and busy, but I don't regret a single second spent on this project. The expansion of the BLAST Rising tournament to the LATAM region has shown us how big and necessary this step was. I would like to thank everyone who contributed to the building of this project together with me – without them all this would not have happened in this form. Our goal for the coming years is to bring BLAST Rising to a worldwide format with LAN finals" – says Adrian Błaszczyk – Gaming Project Manager at Fantasyexpo
Andrew Haworth, Commissioner for BLAST Premier, said: "BLAST is driven by a desire and ambition to offer up-and-coming esports regions and teams around the world with opportunities and a space to develop further – BLAST Rising has been doing exactly that with many organisations going on to have an impact in tier one tournaments after featuring in our events. The LATAM region is one of the most passionate and talented regions in Counter-Strike, this shone through in the tournament's viewership and quality of CS on display. Next year we look forward to building on the brilliant first two year's worth of BLAST Rising work with our friends over at Fantasyexpo."